Unique Experience in Premiere Chikugo Luxury Accommodations with Harazuru Double Beautifying Hot Spring
Taisenkaku's attractions
Renewal in
March 2023
Newly renovated resort facilities & guestrooms
Proudly present our renovated facilities newly opened in March 2023!
The new dining experience at "Japanese Dining Kariho" with a live kitchen to satisfy any craving, customized Japanese/Western with 4 beds along with the refurbished changing room of our discernible jungle bath.
Services
Renewal

"Japanese Dining Kariho"

Renewal

Private dining room, "Japanese Dining Kariho"

Renewal

Changing room of our discernible jungle bath

Airy swimming pool (open only in summer)
"Japanese Dining Kariho" is newly opened in March 2023!
Equipped with a lovely live kitchen so guests can be amazed by seeing what chefs are preparing conscientiously just for them!
Take in the magnificent Mino mountain views and splendid Chikugo river 5 floors up digging in an array of local Asakura, Chikugo feast!

[The stories of the name "Kariho"]
Originated in the first waka poem in the local Hyakunin Isshu (classical Japanese anthology of 100 waka poems) referring to the crisscrossing streams of the Chikugo River in the mountains blessed a huge number of farms

[Capacity] Dining hall- accommodating 106 guests, 6 private rooms (4 for four guests, 2 for six guests) * semi-private
1 private dining room (up to 4 guests) * Bar table


Rooms
Our 9 elegant guest rooms, VIP room, and 4 types of Japanese/western rooms are newly renovated! Together with our Japanese/western family rooms with 4 beds, simply pick your stunning choice according to your accommodation purpose!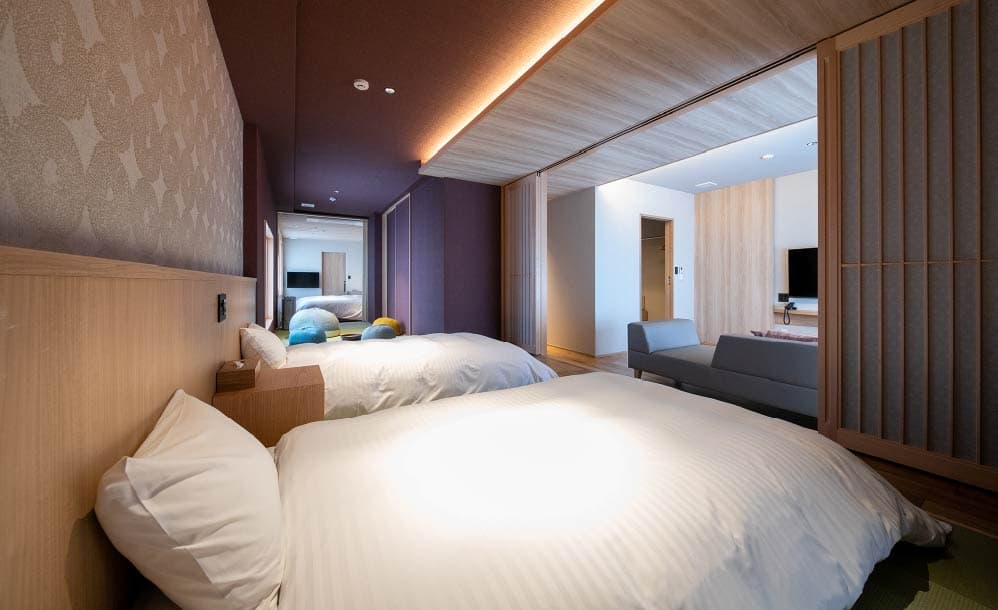 Renewal
"Nagomi" & "Akari"- Japanese/western rooms (4 types) Deluxe rooms (4 beds)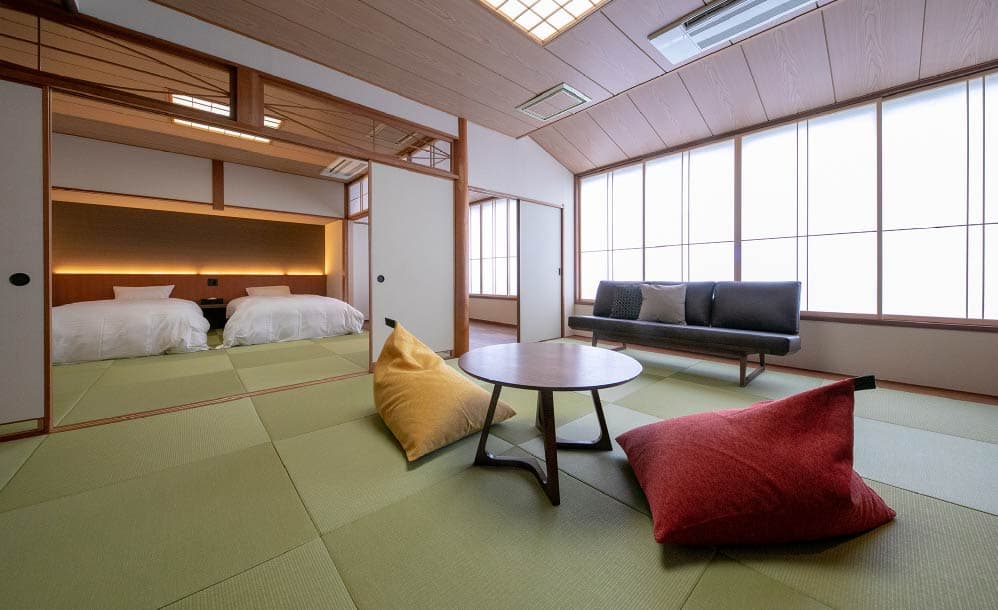 Renewal
"Chihaya"- Japanese/western room (4 types) with a twin bed and a Japanese room with a couch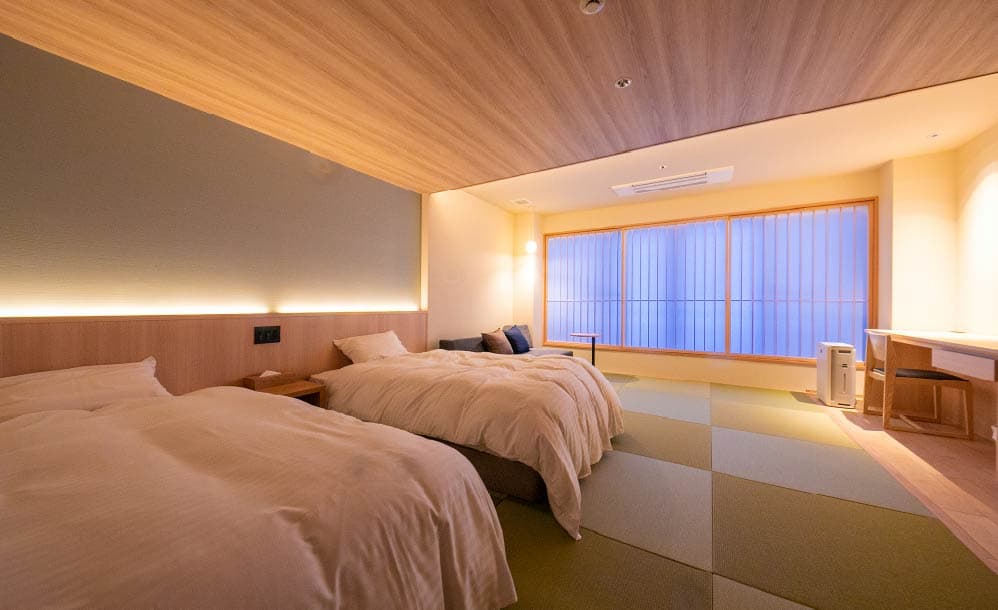 Renewal
Japanese/western room (4 types) with a twin bed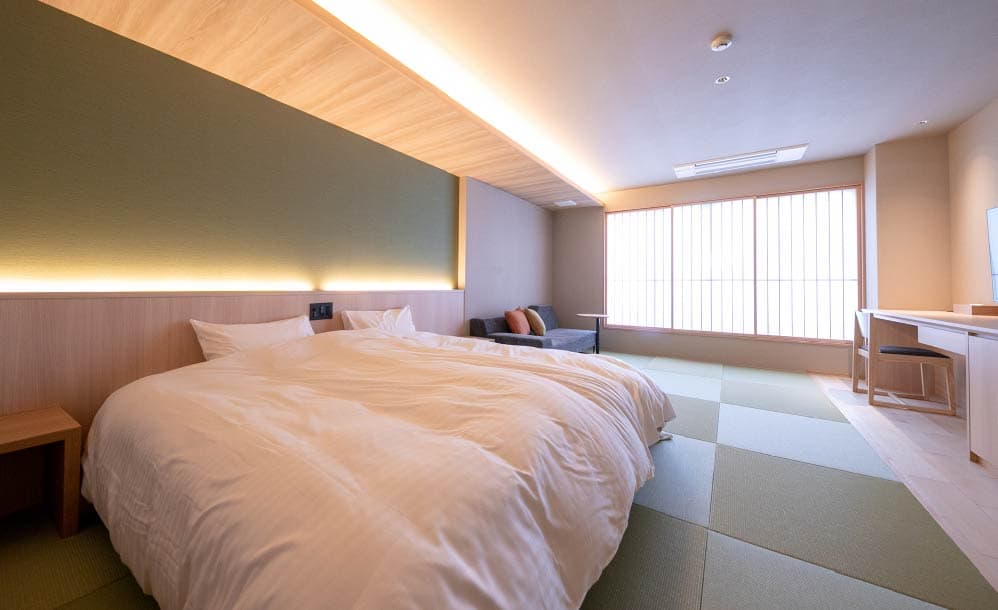 Renewal
King double bed- Japanese/western room (4 types)
Grand opening in March 2023 after renovation!
New Japanese/western rooms (4 types)
Customized rooms with "twin bed", "king double bed", and "twin + Japanese room with a couch" are newly opened!
We proudly present the airy "Deluxe type" Japanese/western room with 4 beds, perfect for 3-generation families and large groups!
Feel the warmth of Japanese traditional tatami mats in a contemporary style!
Luxuriate in our renovated bright and airy rooms for your relaxing getaways!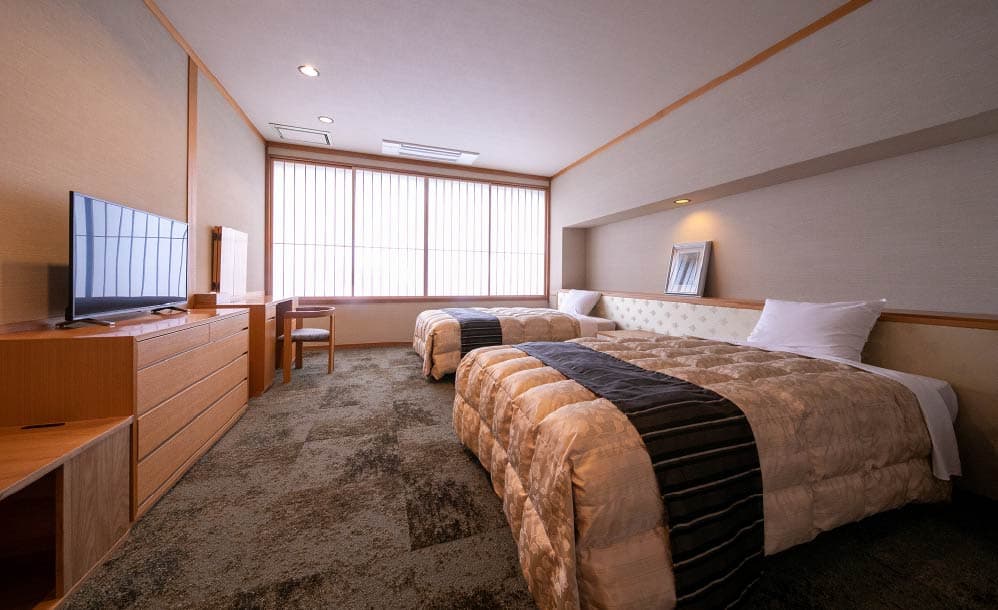 Renewal
Koujitu-no-ma, VIP room
Some of our guest rooms are
renovated and re-opened in March 2023!
"Kojitu-no-ma", our VIP room, was honored to receive their Majesties the Emperor Emeritus and Empress Emerita during the National Tree-Planting Festival in 1992. Kick back at this curated elegant space with special background!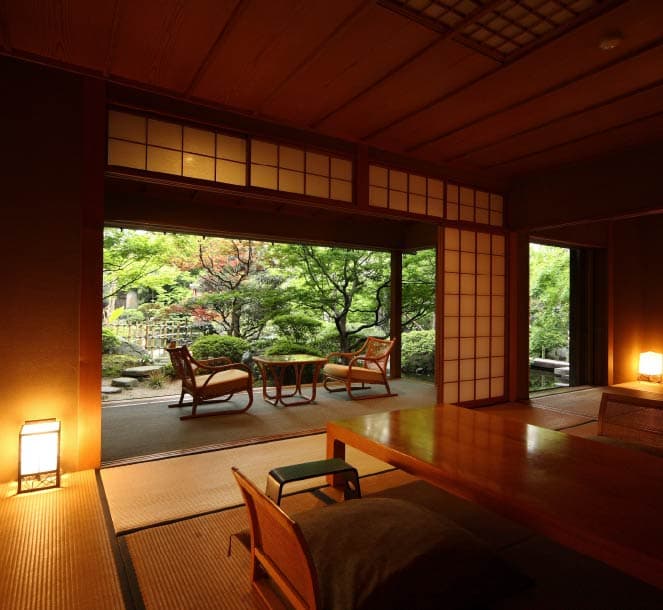 Our bungalows reveal traditional Japanese beauty.
They are extraordinary shelters away from all hustles and bustles.
Breathe in traditional Japanese beauty at "Koujinan", the authentic Japanese-style private bungalows.
Located at the utmost peaceful corner of our resort, guests are overwhelmed by the epic view of the Japanese garden through the large windows. We want your experience with us to be comfortable, relaxing, and memorable.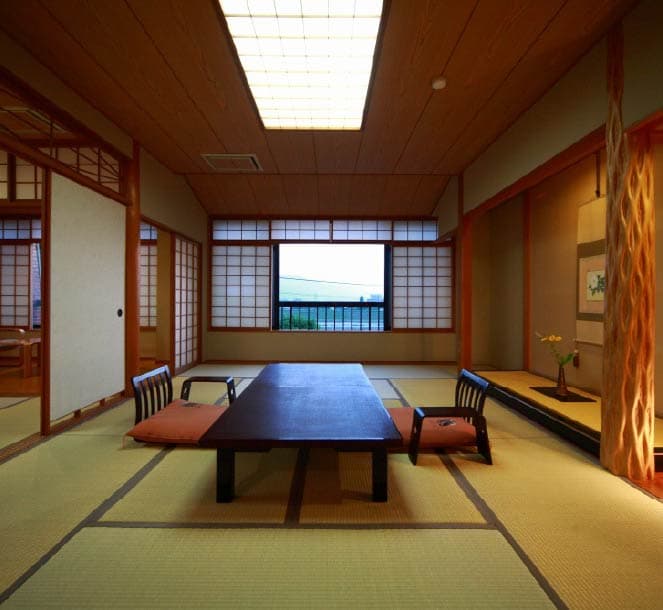 Heart-calming atmosphere unique to Japanese traditional tatami mats.
They constitute your perfect getaway.
Japanese rooms (8 – 10 tatami mats), Japanese room (12 tatami mats), and connected rooms (12 + 8 tatami mats)
The Japanese room is a standard choice in our resort with plenty of spacious options for you to luxuriate. The connected rooms are perfect for families and large groups.
A spacious room (12 tatami mats) with a large twin bed. Easily accessible for wheelchair users (it's not a totally accessible room). Please do not hesitate to contact us in advance for assistive arrangements.
(*) This Japanese/western room is not renovated in 2023.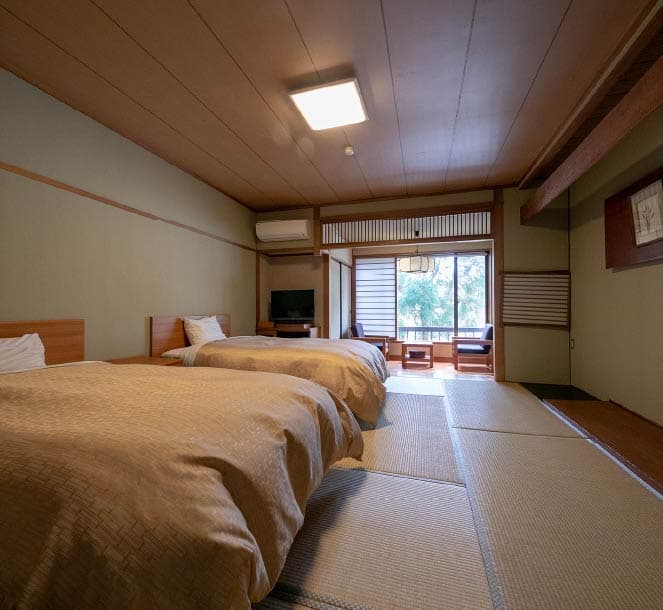 The room doesn't offer spectacular views but it's a great deal!
Low-floor Japanese rooms with a bed (10 tatami mats)
Japanese room with a twin bed. The rooms only offer partial views because of their low floors.
Double skin-beautifying hot spring and
A wide range of soaking experiences
Harazuru is also known as a "double skin-beautifying hot spring" as it offers both "pure alkaline hot springs" and "sulfur hot springs" with staggering skin-beautifying effects. Indulge in our discernible baths with different vibes. The men's and women's bath interchange daily.

The men's and women's public bath interchange daily
Jungle bath
Our "Jungle bath" is filled with greenish and azure colors unique to tropical rainforests. It is the bath ranked the highest by our users. Soak in a hot spring and relax in the shade of trees at the same time!

The men's and women's public bath interchange daily
Chitose bath & Kappa bath
The "Kappa" bath is named after the famous folklore of the "river child" at Chikugo River. The semi-open rock bath resembles river children playing and having fun by the river.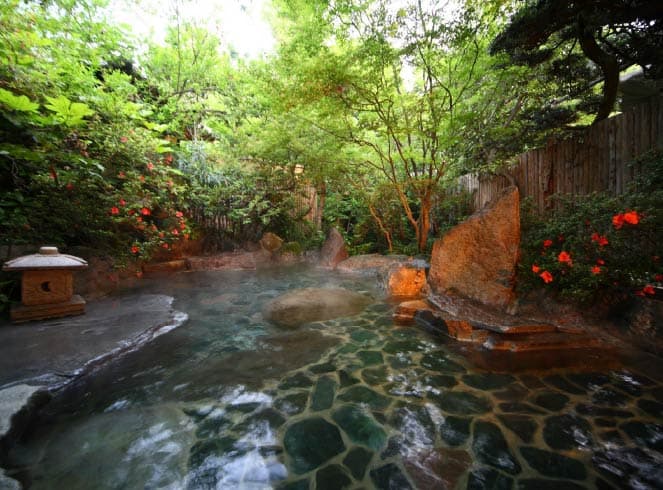 "Keiryuno-yu", a private open-air bath
Keiryuno-yu" is an open bath at the back of our Japanese garden with flowers, trees, and varying expressions in different seasons. Be embraced by the airy and heavenly paradise.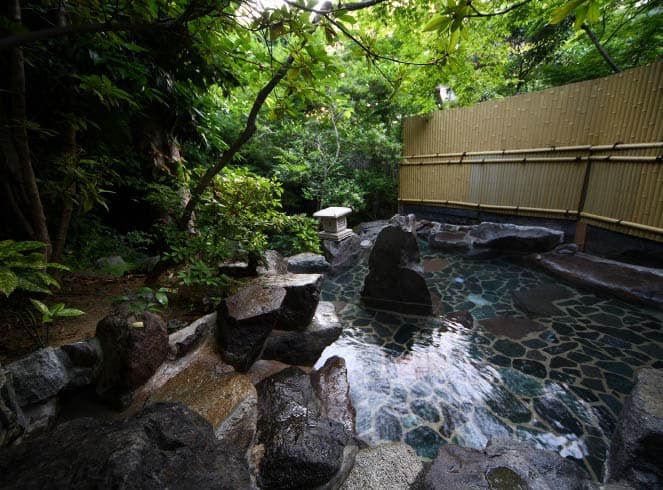 "Takimino-yu", a private open-air bath
Soak in our soothing hot springs and claim them as your own! A sense of calm just washes over you when you take in the waterfall at the back of our courtyard. The bath is loved by many repeat visitors.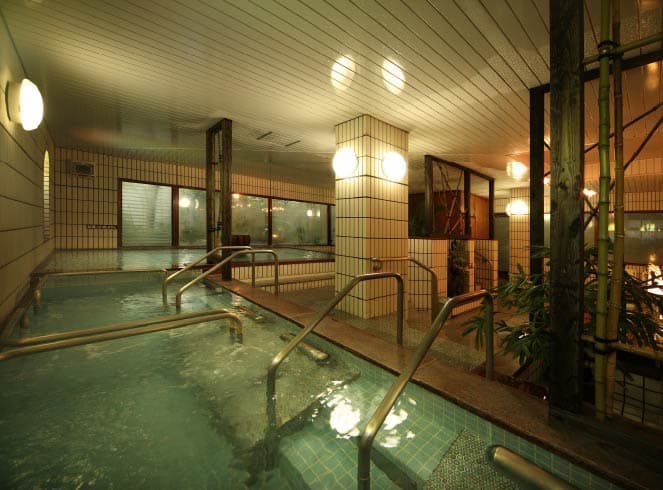 "Miyabino-yu", an exclusive hot spring for female guests
The greatest attraction of Harazuru Hot Spring Village is undoubtedly the skin-beautifying hot spring texture. The "double skin-beautifying" hot spring is much loved by female guests; you can totally relax in bliss!
Also be amazed by the "shampoo bar" with selections of shampoo, conditions, and body soap for you to choose from. Immerse in the wellness of our beautifying hot springs.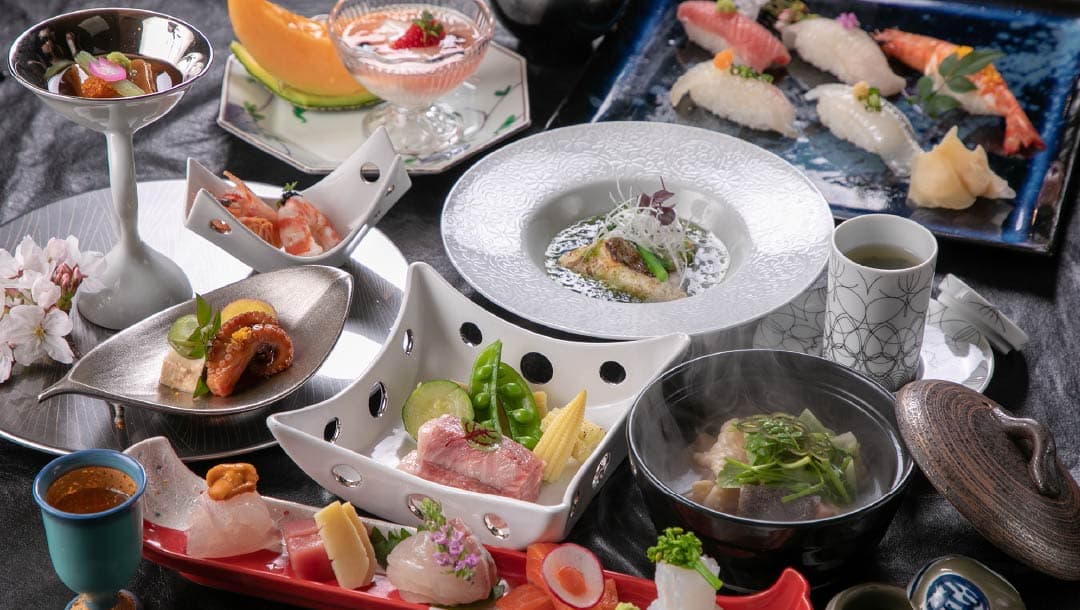 Local cuisine prepared with
hospitality and civic pride
Well-curated dishes visualizing the traditions of Japanese food. Thanks to the blessed abundance of agricultural products, we're pleased to offer a well-balanced selection of seasonal local produce and fresh ingredients from mountains, seas, and rivers.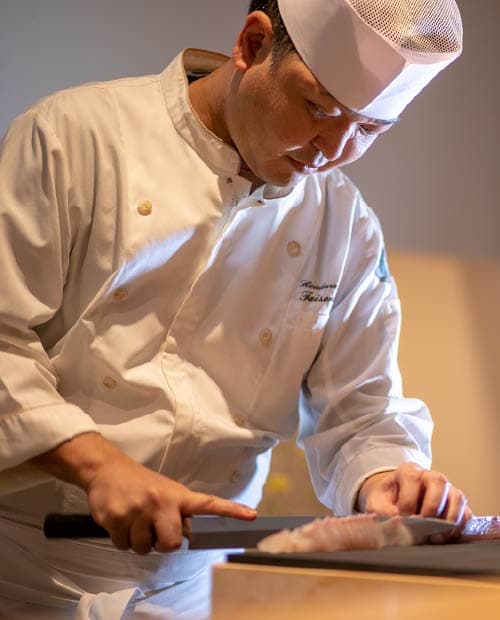 We pride ourselves on satisfying any craving at different times- buffet-style breakfast, seasonal course meals, and gozen lunch sets.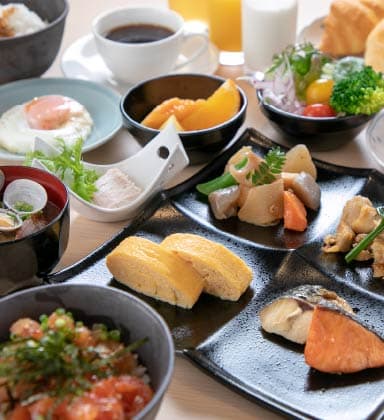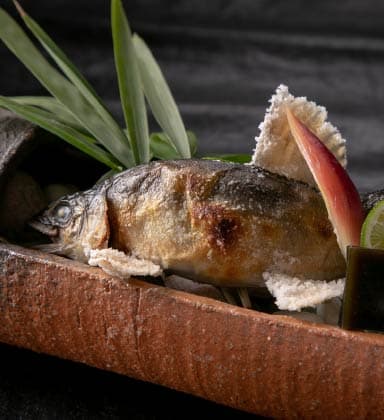 A comfy stay at Taisenkaku
Harazuru is a retro-chic hot spring village with more than 110 years of history along the Chikugo River, the longest river in Kyushu. It's a 1-hour drive from Fukuoka metropolitan area, providing an easy escape from the urban jungle. It's also at the heart of Kyushu as the perfect base for your trip. Be soothed at the public trails crisscrossing Asakura, Ukiha, and Toho with clear water and woods.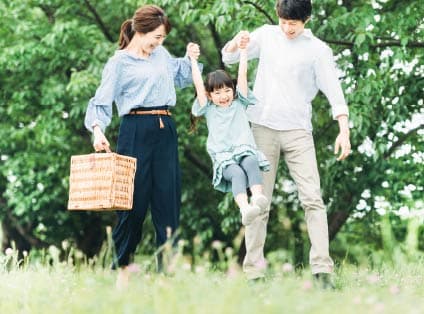 For families
Leisure activities such as fruit-picking tours
Recommended facilities
For families
Enjoy the world with your kids in a new light- thrilling slides in our summer swimming pool and jungle bath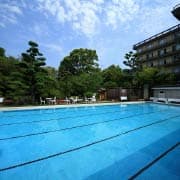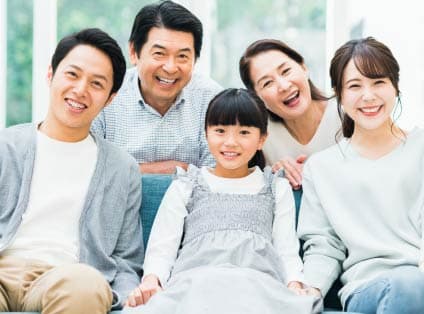 For 3-generation household
Celebrating your birthday here
Recommended facilities
For 3-generation households
Have a great time at our karaoke box and table tennis room- make a memory with your family!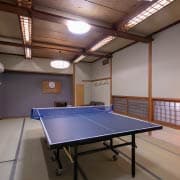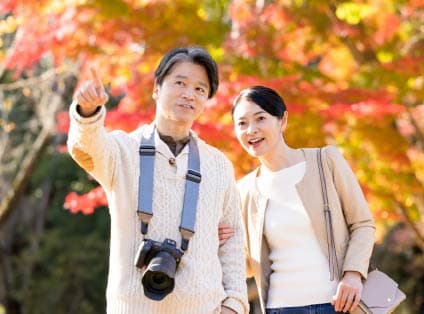 For couples
For your anniversaries and special trip
Recommended facilities
For couples
Highly recommend our VIP room and "Kojinan", the special bungalow. Our private open hot springs are much loved as well.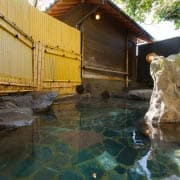 Around the resort
The four seasons of Chikugo River…
Riverside cherry blossoms and rape flowers in spring, traditional cormorant fishing in summer.
Asakura is a water city also commonly known as the home of fruits with fruit tree farms for visitors throughout the year. It's also famous as a red leaves spot with a history of the autumn moon; take your picks of souvenirs at Basaro, the roadside rest area.
Harazuru hot spring village pushes the boundaries of your imagination.
Recommended for families

Fruit picking (apples & grapes)

A 10-min drive from our resort

©Fukuoka Prefecture Tourism Association

Recommended for 3-generation households

Chikugo River (cormorant fishing park)

A 1-min walk from our resort

Recommended for couples

Autumn moon

A 30-min drive from our resort

©Fukuoka Prefecture Tourism Association

Recommended for large groups

Basaro, Harazuru- the roadside rest area

A 1-min drive from our resort
Getting here
In just a 1-hour drive from metropolitan Fukuoka.
A convenient location as the base for your Kyushu trip also with easy access to Oita and Kumamoto.
Rental services
Rental items
(*) Rental services might be chargeable(*) Quantity limited. Your understanding is greatly appreciated.

Cell phone chargers, air purifiers,

air humidifiers,

extension cords,

irons (for clothes),

blankets,

bottle openers,

wine openers,

thermometers,

nail clippers,

senior armchairs,

and wheelchairs

Rental items for kids
Yukata for kids (S, M, or L, from 75cm to 145cm),

slippers for kids,

kid chairs,

diaper trash box

Rental entertainment items
Cards,

Hanafuda flower cards,

Shogi chess,

Igo chess,

Mahjong (3,300 yen, tax included), karaoke equipment for banquet (11,000 yen, tax included)
Facility information
| | |
| --- | --- |
| Address | 20, Hakishiwa, Asakura-shi, Fukuoka, Japan (838-1521) |
| Phone number | +81-946-62-1140 |
| Number of guest rooms | 72 rooms ( 36 rooms in Block 1, 4 rooms in Block 2, 29 rooms in Block 3, and 3 bungalows) |
| Services | Public baths, private open baths, sauna, restaurant, banquet, café, souvenir store, karaoke box, table tennis room, outdoor swimming pool (opened only in summer) |
| Internet connection | Free Wi-Fi connection in all resort areas |
| Car park | 100 parking spaces (free) |
Guest room details
Check in / check out
03:00 pm / 10:00 am
(*) Guests of dinner packages should check in before 8:00 pm or we might not be able to serve dinner. Your understanding is greatly appreciated.
Total number of guest rooms
72 rooms
Cards
VISA, JCB, American Express, Diner's Club, UC, DC, NICOS, PayPay
Terms & conditions / remarks
(*) A 150 yen bathing tax is imposed on stay (adult guests).
(*) A 200 yen accommodation tax (applies also to children) is imposed on stay.
(*) No smoking (including all guest rooms, restaurants, banquets, etc.; 1 smoking area available)

Cancellation policy
Below please find the cancelation fees

[Same day cancelation]
100% of the accommodation fee

[Starting from 1-day advance cancelation]
50% of the accommodation fee

[Starting from 2-day advance cancelation]
20% of the accommodation fee

[Starting from 3-day advance cancelation]
20% of the accommodation fee

(*) Cancelation policies may be different in different reservation packages. Please confirm the details carefully.

No show
Guests do not show up for their reservations have to pay the penalty below.

| | |
| --- | --- |
| No show/ no contact | 100% of the accommodation fee |